MHA New Way Residence Gets Furniture, Lighting Updates
$2,000 Donated by Bob's Discount Furniture Charitable Foundation
SPRINGFIELD, MASS. – The Bob's Discount Furniture Charitable Foundation has donated a $2,000 Bob's Gift Card in response to MHA's critical need to re-furnish one of the agency's oldest residential programs serving adults with Acquired Brain Injury (ABI).
"Team MHA is thrilled that Bob's has made this generous donation," said Kimberley A. Lee, VP Resource Development & Branding for MHA. "With the additional expenses that MHA faces for personal protective equipment and cleaning regimens during this time of the pandemic, our current funding cannot keep pace with our needs for updates in the agency's older residences. The gift card from Bob's means MHA is now able to acquire needed furnishings that we simply could not otherwise. The MHA New Way residential program we have targeted serves three gentlemen, Martin, John and David, who are living with ABI. They share the home and work in partnership with MHA's 24/7 caregiving staff to learn skills and strategies for adapting to and overcoming challenges that arise in their daily lives."
Lee explained that improvements in the home's dining room will create a space where the gentlemen can eat together, play games, and have coffee while discussing world and community events. Plans also include updates to the living room including a center table to encourage board or card games, plus a new rug and lighting to brighten the space.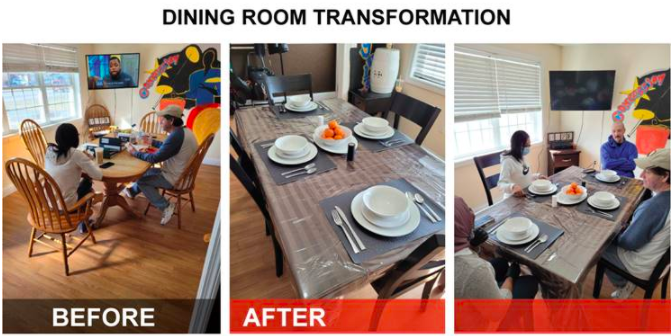 "We are happy we were able to contribute to MHA's project," said Kathryn Pianta, Lead Foundation Administrator for Bob's Discount Furniture Charitable Foundation. "We are aware of and believe in MHA's good work, and look forward to seeing the makeover."
MHA's New Way residences are a pioneering approach to comprehensive 24/7 care, offering a less expensive and more meaningful community alternative to institutional care in a nursing home. Each New Way residence is home to three or four adults who may have cognitive, mental health and physical challenges as a result of their injury or illness. New Way professional residential support specialists are trained and certified in medication administration, first aid, CPR and other relevant skills. Additional MHA staff, including clinicians and registered nurses, visit the home as needed.
"MHA's vision is to support our New Way residents in such a way that they spend more time together, as a family unit should be, rather than spending most of their time alone in their respective rooms," said Lee. "The residence opened in 2016. When a program site opens, it receives a certain amount of state funding to purchase furniture, furnishings and living necessities. However, after the initial opening it is difficult – sometimes impossible – to secure funding to cover the cost for replacements needed due to the normal daily wear and tear in a residential setting. Our friends at Bob's have come through for MHA in a way that will make an impact right away and for years to come."
About MHA:
What We DoMHA (Mental Health Association) helps people live their best life. We provide access to therapies for emotional health and wellness; services for substance use recovery, developmental disabilities and acquired brain injury; services for housing and residential programming, and more. With respect, integrity and compassion, MHA provides each individual served with person-driven programming to foster independence, community engagement, wellness and recovery.
Why We MatterThe youth, adults, seniors and families we serve want the same things in life as anyone: to have friends, work, go to school, have meaningful relationships, express themselves (and be heard), and be accepted in their community for who they are. With our help and resources from a caring community, people can live their potential, in their community, every day.
How We ThinkStarting in the 1960s, MHA's groundbreaking efforts and advocacy helped to transition people away from institutional living to a life in our community. This became a model for the deinstitutionalization movement. Today, our leadership continues to advance awareness of mental health conditions and needs at local, regional and national levels. We drive compassionate care for those challenged by mental health, developmental disabilities, substance use, homelessness, acquired brain injury and more.